Specialist Fire Safety Engineering 

Organisations need to fully comply with fire safety and health & safety laws; therefore having a well maintained and fully equipped premises is very important. Fire Safety Engineering is a crucial part of improving safety and compliance. Safesmart's fire safety consultants provide fire safety engineering advice – click here for further consultancy information. 
Safesmart are an Institution of Fire Engineers (IFE) Affiliate Organisation and our fire safety engineering consultants are IOSH, NEBOSH, BAFE, & GIFireE qualified. Our sister company Trafalgar Fire  – a member of the Safesmart group of companies – are NSI Gold certified for fire safety engineering. NSI Gold level holds the greatest perceived value across industry, by the police, fire & rescue services and insurers.
Trafalgar Fire have fully qualified engineers who can repair, maintain and install the required fire safety equipment at your premises. From faulty fire alarms to damaged emergency lights, they can provide the help you need. Trafalgar Fire has ISO 9001, BAFE SP203-1, and NSI Gold accreditations.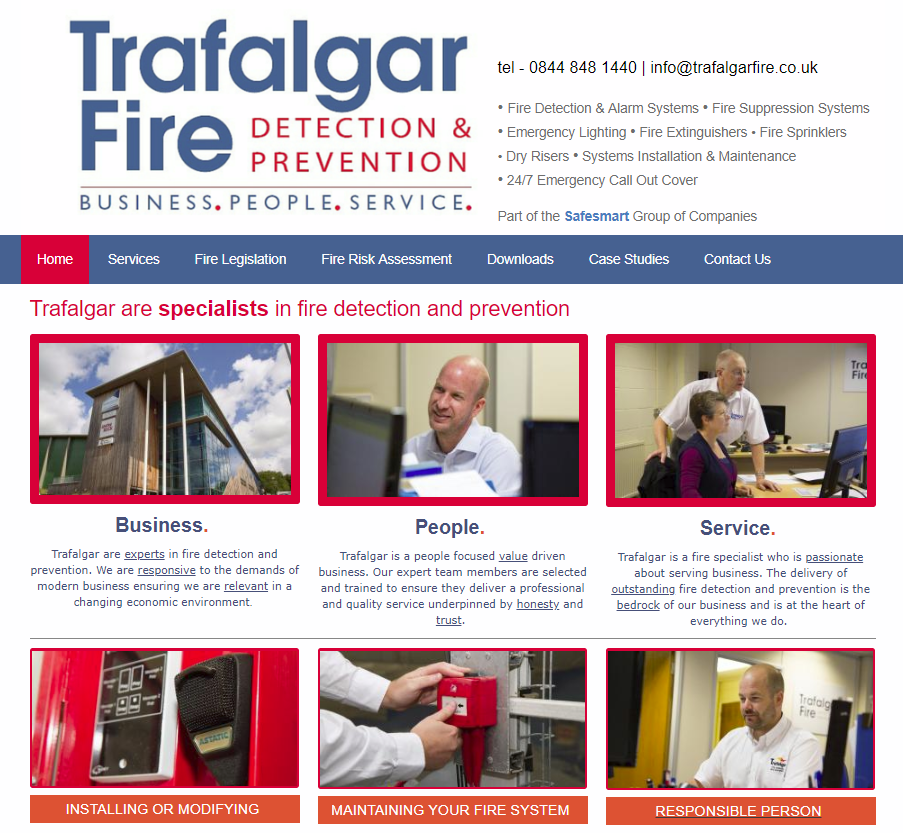 Fire Safety Engineering Services include:      
• Installation
• Planned/reactive maintenance
• Fire alarms
• Emergency lights
• Fire equipment servicing
• Fire extinguishers
• Fire doors
• Fire Sprinkler Systems 
• Installation, inspections and repair

Trafalgar Fire update you with reminders to let you know when your fire equipment is due for renewal or service, to ensure that you are continually complying with the law.
We provide affordable prices for all fire safety engineering services offered, for further details on our services and prices please fill the form below, or contact us
For more information on the most common types of fire extinguishers supplied and serviced, or to make an enquiry directly to Trafalgar Fire, click here.