Expert FIRAS Certified Fire Sprinkler Installation
Through our partner company we offer design, installation and maintenance of fire sprinkler systems as well as consultancy to inform you about which fire sprinkler system is best for your environment.
Contact us for a quotation.
Safesmart and our NSI Gold certified sister company Trafalgar Fire have established a partnership with a leading specialist fire sprinkler installation company that is full certified to install fire sprinkler systems.
In partnership with this specialist company, our IOSH, NEBOSH, BAFE, & GIFireE qualified Fire Safety Consultants and Fire Safety Engineers can provide expert advice about the type of fire sprinkler system that is best for your environment.
Our fire sprinkler installation partner is FIRAS certified and holds this separate accreditation for Commercial, Residential and Domestic fire sprinkler installation. They have over 30 years' experience in fire sprinkler installation and are members of both The British Automatic Fire Sprinkler Association and The Residential Sprinkler Association. Sprinkler installations can be tailored and alterations can be made to suit design, time and budget constraints whilst ensuring safety, efficiency and affordability.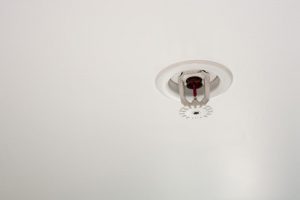 Our Partner carries out fire sprinkler installation in accordance with:
– BSEN 12845:2015
– Factory Mutual (FM) Rules
– NFPA Code 13
– BS 9251:2014
– NFPA 13D
– NFPA 13R
The company we partner with has specialist fire sprinkler installation experience in the following areas:
Education
Ministry of Defence
Healthcare
Film & Television Studios
Industrial
Hotels & Leisure
Office & Commercial
Retail
Warehouse & Distribution
Food Industry
Data Rooms
Waste & Recycling Plants
Our partner can install all types of fire sprinkler systems ensuring they are appropriate for the environment they are going into.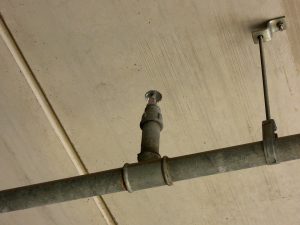 There are different types of fire sprinklers that can be installed
Wet Sprinkler Systems:
These fire sprinkler systems can be installed when there isn't the possibility of pipes freezing. The sprinkler system is under pressure with water at all times. When the fire creates heat this activates the fire sprinkler head and water flows immediately onto the fire.
Dry Sprinkler Systems:
These can be installed where there's a possibility of water in pipes freezing. This type of system is charged with compressed air or an inert gas like nitrogen. The heat from the fire activates the sprinkler head then the air pressure drops and a valve opens which enables the water to fill the pipes and discharge from the sprinklers onto the fire
Pre-Action Sprinkler Systems:
These types of fire sprinklers are usually installed where the accidental release of water may cause problems. For example if a fire sprinkler head is accidently damaged.
Pre-action fire sprinkler systems are installed in areas like data processing premises and document or cold storage warehouses. The sprinkler system can only be activated by a combination of events i.e. the smoke/heat detection and the operation of a sprinkler in a fire condition. Pipes are filled with compressed air then water is only allowed to fill the pipes when smoke/heat is detected by the system. This helps to ensure that accidental release of water will not occur. There are several modes that these systems can operate in and these can be set up in the control panel system to suit a client's exact requirements.
For the reassurance of expertise in consultancy and installation contact us for a fire sprinkler installation quotation.
Choosing Safesmart means choosing safety, efficiency and affordability.
Contact us using the form below. We look forward to helping you.