Fire Risk Assessment and Health & Safety Risk Assessment Software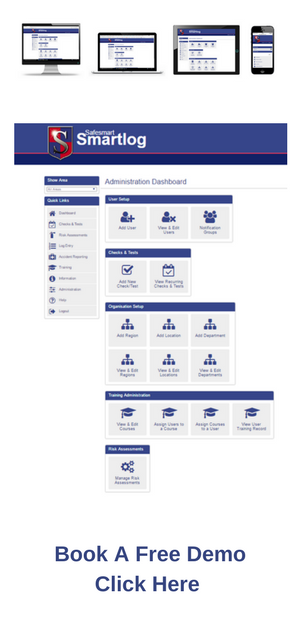 Making your organisation compliant with current laws 
Smartlog Software is used by many organisations across the UK, and makes the risk and compliance management of fire safety and health & safety both simple and inexpensive. Smartlog makes self-conducted comprehensive risk assessments much easier and quicker to complete.
• Detailed and comprehensive risk assessment templates for both fire and health & safety
• Over 30 risk assessment templates available (asbestos, COSHH, Legionella, manual lifting etc.)
• In depth post-assessment reporting – referenced photographs and documents
• More information: relevant legislation and regulations available offline
• Fully digital management process – a centralised audit trail
• Automated checks and tests facilities – reminders, task allocation, escalation etc.
• Export completed assessments to PDF – review/compare previous assessments
Can you be certain that your establishment is being given the best advice and help?
As a Smartlog customer, Safesmart will provide telephone and online support to you and your staff members whenever it is needed – at no additional cost. We will also try to ensure that you have all the support and information you need to make sure that everything compliance-related which needs doing is being completed in a timely fashion.
If you require or want one of our consultants to visit your establishment and complete the assessments for you, we will ensure that the pricing is reasonable. All of our fully qualified consultants are qualified and also more than happy to give you advice on all aspects of fire safety and health & safety regulations.
Please contact us to discuss the health and safety requirements for your organisation.