Risk Assessment Software
Risk Assessment
A facility of risk assessment templates enabling the self-completion and monitoring of assessments in accordance with legislation and regulatory guidelines.
Book Demo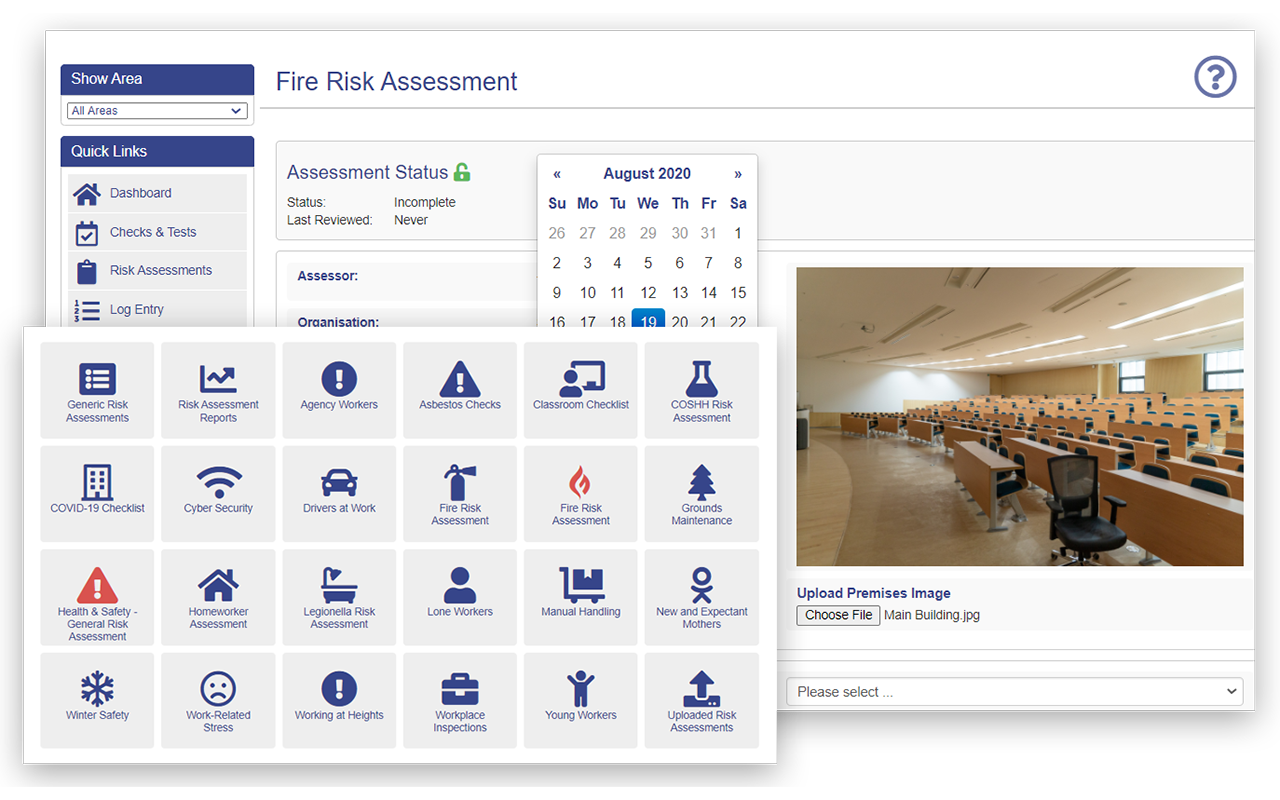 Instant access to a large library of detailed & customisable risk assessment templates – from fire risk assessment to periodic room audits.
All failed assessment questions are automatically ticketed to be addressed. Escalating email alerts are generated until the issue has been fixed.
Carry out more detailed risk assessments by attaching photos, videos or documents to any answers, and to also provide more accurate reports.
30+ detailed & customisable templates
With over 30 default risk assessment templates available, users can also customise an existing template to their specifications. The library includes:

⁍ Fire Risk Assessment
⁍ H&S Audit
⁍ COSHH
⁍ DSE
⁍ Manual Handling
Create custom risk assessments
Users have the ability to create, edit and share risk assessments with anyone inside or outside their organisation, at any time.
A full digital system means that every user's retains a thorough and retraceable audit trail. Any changes or updates, however minor, are recorded and time-stamped.
In order to ensure that your premises are always compliant with fire safety regulation and to keep workplace health & safety at a high standard, a fire risk assessment must always be up to date – especially if any major changes occur in regards to the premises.
A regular fire risk assessment is a requirement under law:
The responsible person must make a suitable and sufficient assessment of the risks to which relevant persons are exposed for the purpose of identifying the general fire precautions he needs to take to comply with the requirements and prohibitions imposed on him by or under this Order.
Some business environments are more dynamic than others and essentially require a professional assessor to regularly carry out a fire risk assessment – which is a costly service. However, less dynamic work environments still require annual reviews of assessments, and this can be done by the responsible person between professional assessments.
Smartlog® is risk assessment software that provides the required tools for carrying out your fire risk assessment and reviewing previous assessments.
Why should you choose Smartlog®?
Safesmart have been providing risk assessment software & services for over 20 years, and using our experience and knowledge, we also provide health & safety advice and Smartlog® support for our clients whenever it is needed — at no additional cost.

Frequently Asked Questions (FAQs)
Risk Assessment software is designed to identify, analyse, and evaluate potential risks and hazards associated with activities or projects. By using a structured approach to assess the likelihood and potential impact of risks, this software helps you to prioritise and manage those risks.

Overall, risk assessment software can be a valuable tool for identifying and managing risks, improving safety and compliance, and supporting efficient and effective decision-making.
Risk Assessment software increases efficiency for your business, helping to automate the process of identifying, analysing, and evaluating risks. With a centrally accessed system, it also easier to share information and co-ordinate risk management efforts between different departments and team members. This can save time and resources and allow you to focus on implementing risk management strategies.

Risk Assessment software can also be more accurate and reliable than manual methods, which can be subject to human error; whilst also being tailored to your specific needs and requirements, allowing you to focus on the risks that are most relevant to your business or activities.
Yes, in many cases, you can do your own fire risk assessment; however it is recommended that you have at least a basic understanding of fire safety and fire risk assessment principles before conducting your own assessment. And if your premises are complex or high-risk, you may want to consider seeking the advice of a professional fire safety consultant.

As the responsible person for the premises, there is a legal requirement to identify any potential fire hazards, assess the risk of a fire occurring, and evaluate any existing fire safety measures in place. You can carry out or review your fire risk assessment on your own using fire risk assessment software like Smartlog.

You can also find helpful guidance on fire risk assessment from the HSE, which can provide you with an understanding of the principles involved and any factors to consider.
To book a free demo of this Risk Assessment software or for further information about Smartlog®,
please fill out the form below