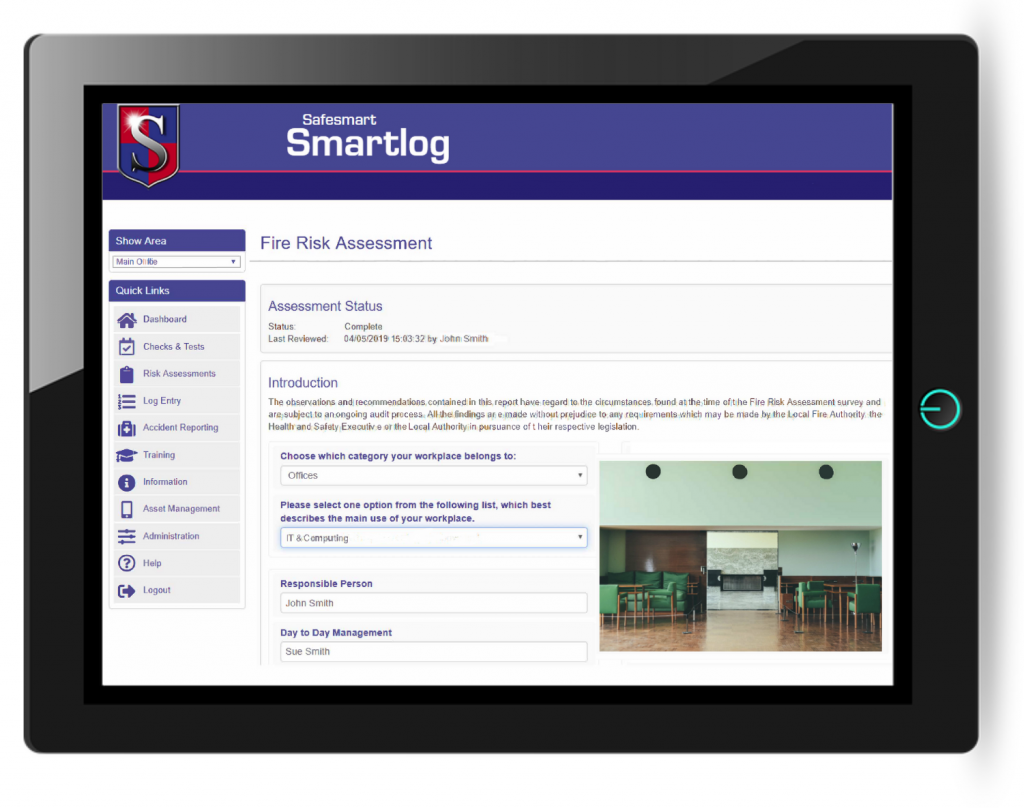 Fire Risk Assessment
A regular fire risk assessment is a requirement under law, and Article 9 (1) of the Regulatory Reform (Fire Safety) Order 2005 states that:
'The responsible person must make a suitable and sufficient assessment of the risks to which relevant persons are exposed for the purpose of identifying the general fire precautions he needs to take to comply with the requirements and prohibitions imposed on him by or under this Order.'
In order to make sure that all your premises are always compliant with fire safety regulation and to keep workplace health & safety at a high standard, a fire risk assessment must always be up to date especially if any major changes occur in regards to the premises.
Some business environments are more dynamic than others and essentially require a professional assessor to regularly carry out a fire risk assessment – which is a costly service. However other environments still require annual monitoring, and this can be done by the responsible person between professional assessments; and the right risk assessment software allows this to be done thoroughly, and time & cost efficiently.
---
Smartlog
Smartlog is cloud-based compliance management software for organisations that seek to centralise their fire and health & safety compliance.
Alongside a host of comprehensive features, the software contains risk assessment templates with a detailed & thorough checklist, relevant legislation (for the user's legal and procedural clarification), and allows the quick monitoring and exporting of the final report.
Another advantage of utilising online risk assessment software such as Smartlog is the ability to make report findings readily accessible to relevant parties at the press of a button. And when an issue has been addressed, the user can update the assessment, attach any supporting photos, and leave detailed feedback of undertaken work.
In summary, Smartlog makes comprehensive self-conducted risk assessments a much simpler and quicker job.
---
Risk Assessment Software:
30+ comprehensive risk assessment templates available (including Fire, Asbestos, COSHH, Legionella, DSE). You can also create your own risk assessments, or simply modify an existing one.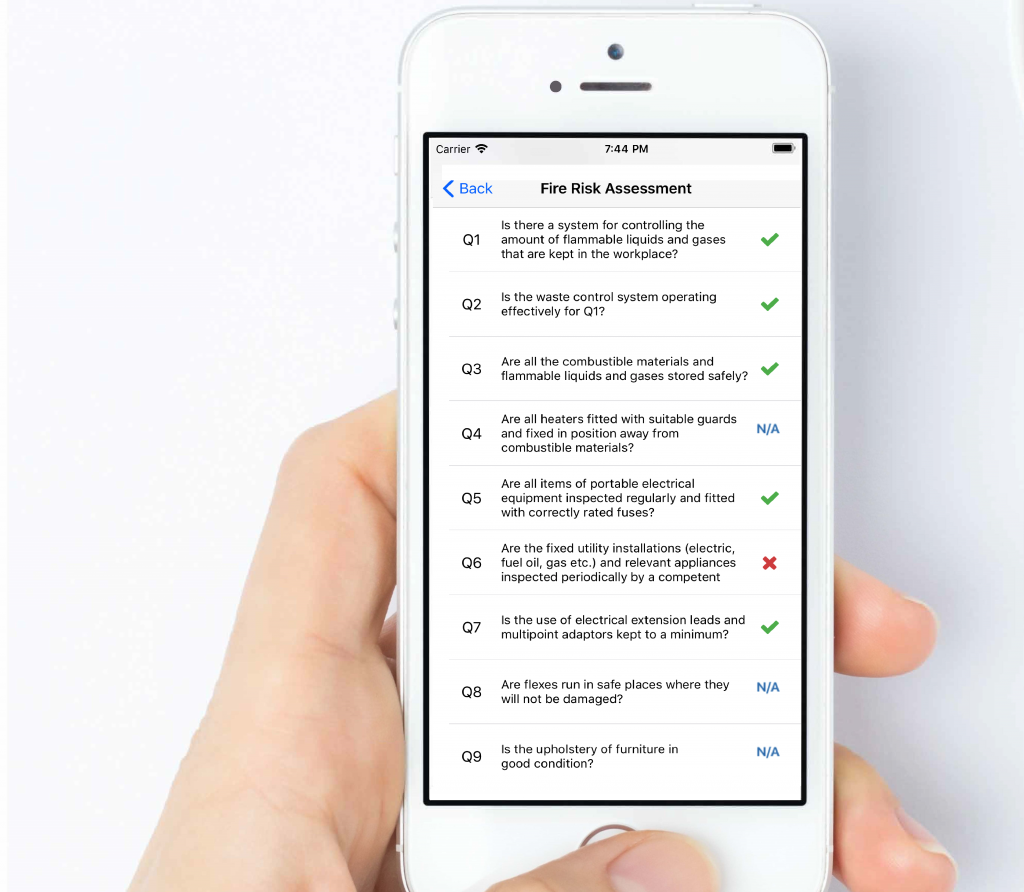 Quick and in-depth post-assessment reporting: attach media, notes and supporting documents to the report.
A Smartlog iOS App allows for greater mobility and offline assessing on your phone and tablet, synchronising and updating Smartlog upon internet connectivity.
Relevant legislation and regulations are referenced and accessible offline, which is ideal for remote assessing.
Fully digital management process with a solid audit trail. Past reports can be accessed when logging updates and exported to PDF.
Email escalation facility: All failed checks can be tasked to be addressed at set date; with appointed individual sent details of the failing with frequent automated alerts generated by the system.
---
Can you be certain that your establishment is being given the best help and advice?
Safesmart also provides an on-site risk assessment service around the country with one of our NEBOSH and IOSH qualified fire safety consultants.
Our fire and health & safety consultants use Smartlog when conducting risk assessments, and any work (maintenance, servicing etc.) undertaken for clients is logged on their Smartlog account.
Because of our hands on experience and knowledge, as a Smartlog client, Safesmart will provide telephone and online support to you and your staff members whenever it is needed – at no additional cost. We will also try to ensure that you have all the support and information you need to make sure that everything compliance-related which needs doing is being completed in a timely fashion.
If you require or want one of our consultants to visit your establishment and conduct an assessment for you, more information can be found here. All of our fully qualified consultants are more than happy to provide specialist advice on all aspects of fire safety and health & safety regulations.
---
To request further information or book a free demo, get in contact or fill out the enquiry form below.