Risk Assessment
A facility of risk assessment templates enabling the self-completion and monitoring of assessments in accordance with legislation and regulatory guidelines.
Book Demo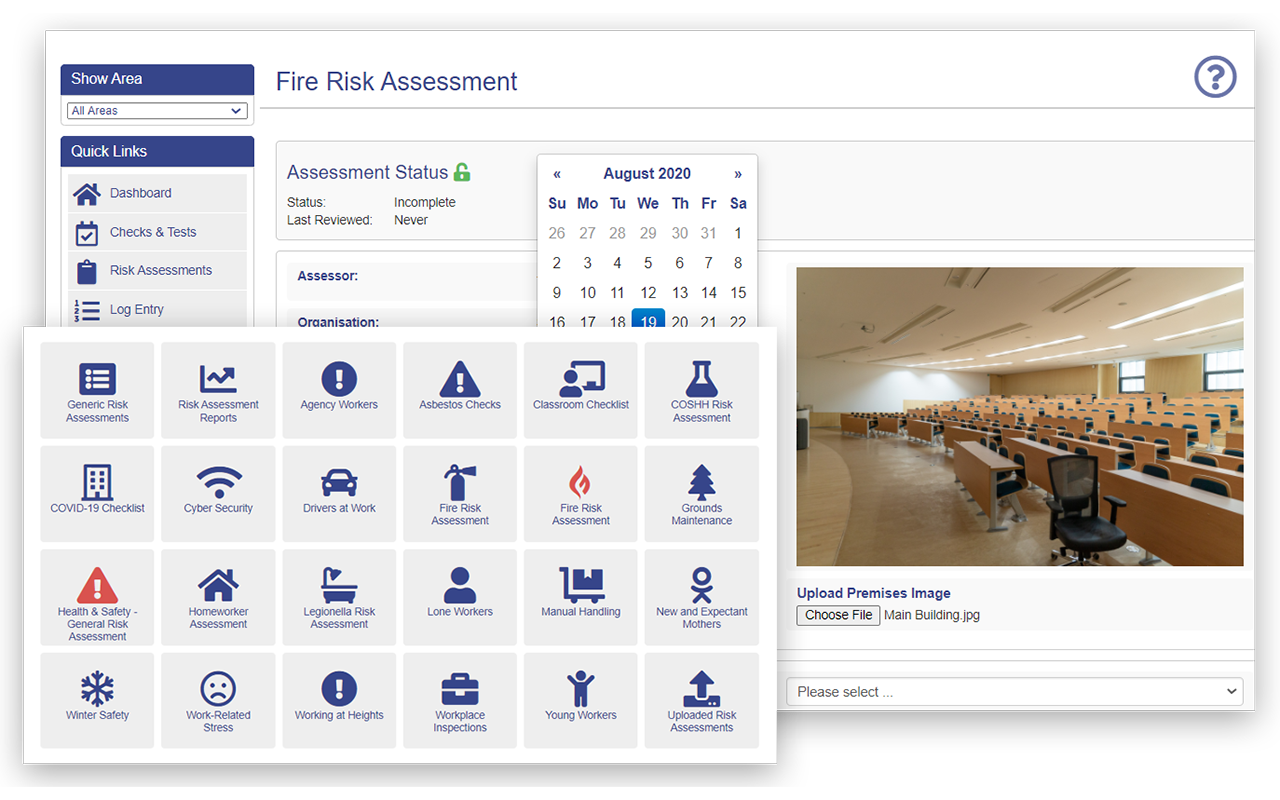 A large library of detailed & customisable risk assessment templates – from extensive premises checks to pre-use assessments for small tasks.
All assessment failings are automatically tasked to be addressed & escalating alerts are generated by the system until the failings have been resolved.
Enhance risk assessments by attaching supporting photos, videos or documents to any questions, and also provide more in-depth reports.
30+ detailed & customisable templates
With over 30 default risk assessment templates available, users can also customise an existing template to their specifications. The library includes:

⁍ Fire Risk Assessment
⁍ H&S Audit
⁍ COSHH
⁍ Manual Handling
⁍ DSE
Create custom risk assessments
Users have the ability to create, edit and share risk assessments with anyone inside or outside their organisation, at any time.
A full digital system means that every user's retains a thorough and retraceable audit trail. Any changes or updates, however minor, are recorded and time-stamped.
In order to ensure that your premises are always compliant with fire safety regulation and to keep workplace health & safety at a high standard, a fire risk assessment must always be up to date – especially if any major changes occur in regards to the premises.
A regular fire risk assessment is a requirement under law:
The responsible person must make a suitable and sufficient assessment of the risks to which relevant persons are exposed for the purpose of identifying the general fire precautions he needs to take to comply with the requirements and prohibitions imposed on him by or under this Order.
Some business environments are more dynamic than others and essentially require a professional assessor to regularly carry out a fire risk assessment – which is a costly service. However, less dynamic work environments still require annual reviews of assessments, and this can be done by the responsible person between professional assessments.
Smartlog® is risk assessment software that provides the required tools for carrying out your fire risk assessment and reviewing previous assessments.
Why should you choose Smartlog®?
Safesmart have been providing risk assessment software & services for over 20 years, and using our experience and knowledge, we also provide health & safety advice and Smartlog® support for our clients whenever it is needed — at no additional cost.

To book a free demo of this Risk Assessment facility or for further information about Smartlog®,
please fill out the form below