Safesmart provide Health & Safety and Fire Safety, Software and Services, helping you improve Safety, Efficiency and Affordability.
Our clients are in many sectors and range from companies with billion dollar turnover to small primary schools. Whatever the size or sector of your organisation, we can help.
We provide health and safety & fire safety consultancy, compliance software, online training and fire safety engineering to large corporations, SMEs, small businesses, healthcare, hospitality, construction, manufacturing, retail and the education sector in particular. Our fire safety engineering is provided through our two sister companies Trafalgar Compliance Services Limited & FireX UK Ltd.
High quality customer service, advanced software and expert advice mean we continue to grow at a fast rate through the renewal of contracts and referral of satisfied customers.
Safesmart are the Association of School and College Leader's only Preferred Supplier. We also have Approved Partner status from the Institute of School Business Leadership and we have been working in partnership with the British Institute of Inkeeping. We are also a NHS supplier and a Practice Index Approved GP Practice Supplier. Our 20 online training courses on Smartlog 5 are CPD certified and we continue to create bespoke courses for clients.
Click on our Solutions menu to find out more about our Smartlog Software and our Services. Safesmart ensure client confidentiality but you can see examples of sectors we work with here and our data protection policy here.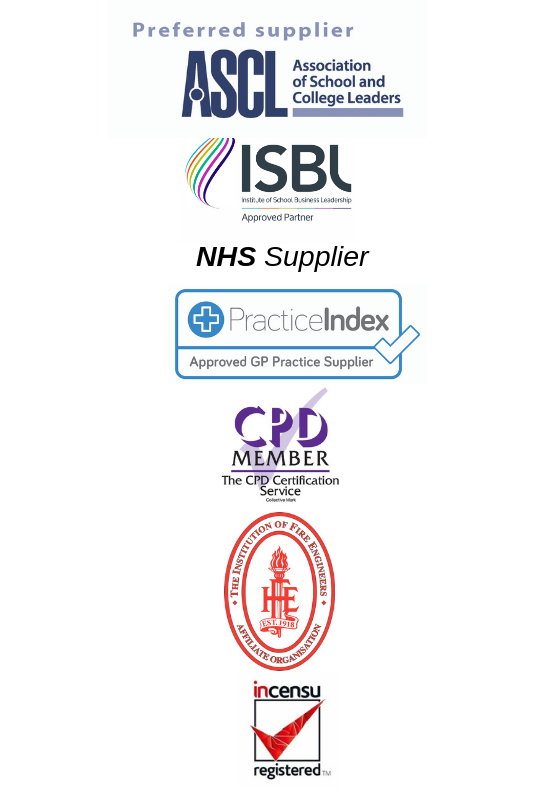 History 
Safesmart was formed in 2002 to provide fire, health and safety consultancy and services to studios in the UK film and TV sector. For example, working with Warner Brothers Studios for Batman Begins. Growth then allowed Safesmart to help many different organisations improve safety, efficiency and affordability with software and services.
Upon formation the company also provided firefighting and detection equipment at a very low cost and engineering services where servicing was required. This service was provided through an extensive database of fully qualified engineers, rigorously evaluated and managed by Safesmart's own highly qualified engineering and consultancy function. Today, the company continues to provide local services, managed on a nationwide basis, using the most appropriately qualified consultants and engineers.
As the company emerged as a market leader, it became clear that changes in the industry would have to be made to meet the regulatory environment envisaged by the "Regulatory Reform (Fire Safety) Order 2005" in England & Wales and the "Fire Scotland Act 2005 /2006" in Scotland. In addition, other Health and Safety legislation was coming into force that needed addressing, particularly for those operating in multisite operations.
The Safesmart management team embarked on a research programme, leading to the development of a cloud based internet software programme, simplifying procedures in the workplace for a wide range of organisations. The new system, Smartlog™ would guarantee effective fire safety and health and safety risk and compliance management across all relevant regulations consistent with the requirements of the EC directive 89/391. This covered all related directives for the workplace, public spaces and establishments.
The first release of Smartlog™ was introduced in 2004, providing a management system with the versatility to report and provide clear compliance information for single and multisite organisations. It was and remains a unique solution, particularly for multisite reporting to a head office through the internet. Managers now had an overview of their Fire and Health and Safety procedures simultaneously with each site, with a reliable audit trail, that could demonstrate compliance to inspecting authorities.
The integrated on-line training facilities and learning management system that is built into Smartlog™ are invaluable in answer to the training requirements of the new and existing laws. This is the most cost effective solution in all areas saving time and money on traditional consultant time, classroom training and paper based management processes.
Smartlog™ has evolved quickly over the last ten years with a particularly intensive development period in the last five years. There are now versions with special features to provide risk assessment and compliance management across Fire Safety, Health and Safety and Hygiene, in the major employment sectors in Hospitality, Health & Care, Education, Public Sector, Retail and Sport and Leisure.
The education sector benefits from Smartlog4Schools with a wide range of applications and training courses and Safesmart facilitates cost savings for primary schools, secondary schools, and further education in Colleges and Universities.
The demands of the modern, multisite retail sector are met with mobile optimisation that adapts to tablet and smart phone technology, in addition to traditional computer hardware.
A range of "self-monitoring" risk assessments in all areas of the workplace have been revolutionised by the introduction of this cost effective and completely compliant system. Smartlog™ can free the responsible person from the need for an expert; however, Safesmart does also provide the necessary, highly qualified personnel to complete the initial assessments if required.
Safesmart maintains Smartlog™ as a unique solution in a world driven by safety and compliance in all industries. The business is driven by high quality customer service and the growth of Safesmart continues at a fast rate through renewal of contracts and referral of satisfied customers.
Safesmart are fire & health and safety risk assessment experts making your facilities compliance quick and easy.