Asset Management Software
Asset Management
A software facility for the registering, monitoring and auditing of your organisation's inventory, appliances or machinery across all your sites.
Book Demo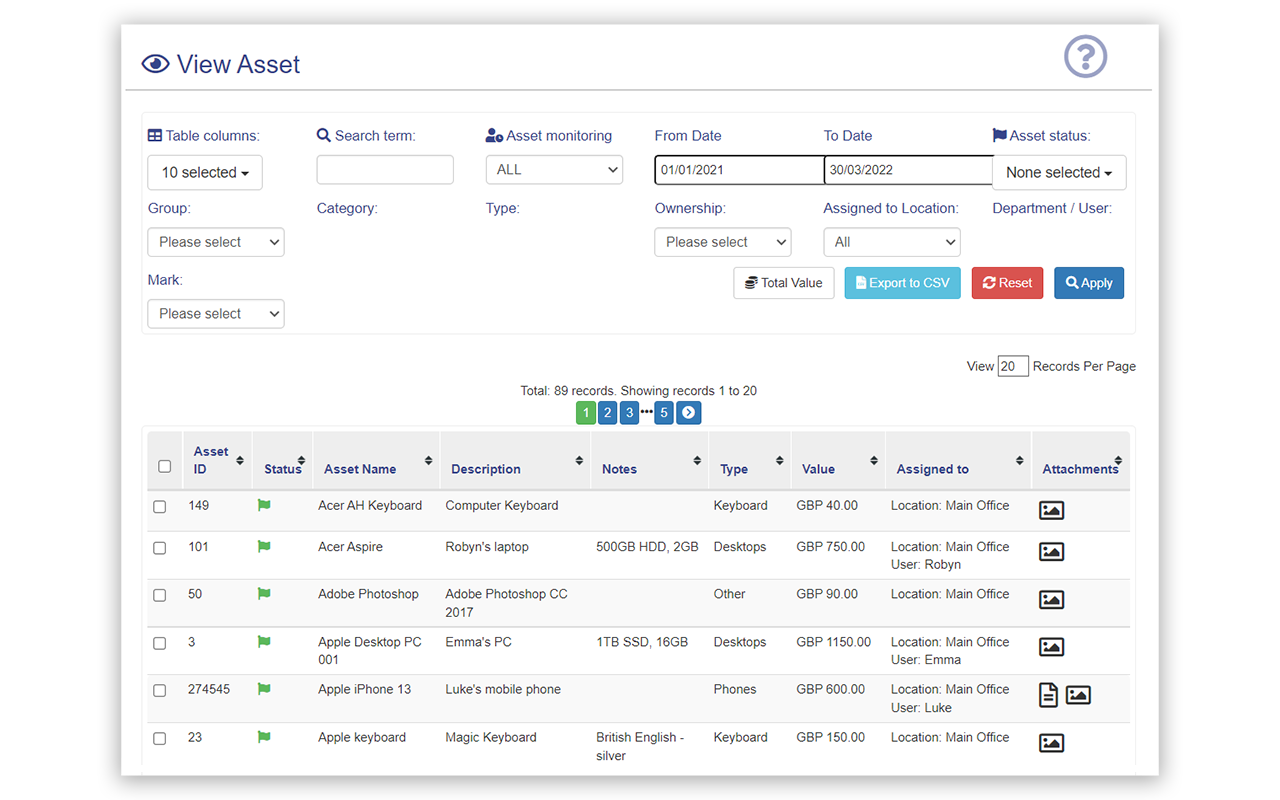 Organise and manage assets by region, site, department or by owner. Easily sort your assets into specified groups, categories or by type.
Audit more efficiently by scanning the barcode, QR code or NFC tag of all assets in the room, using any mobile device with a camera or a handheld scanner.
Monitor asset value over time by setting varied depreciation rates for your different asset types/categories – or adjusting values in the event of asset damage.
Monitor safety testing certificates
From equipment PAT testing to vehicle MOTs, certificate expiry dates for your assets can be automatically monitored, with escalating email alerts sent before the due date.
All changes & developments to assets are time and user-stamped so that nothing is ever missed. This includes marking damage, repair, changes in value, in location etc.
Detailed asset history and reports
Instantly run in-depth reports whether for single sites or for all assets owned across the entire organisation. Reports can also be shared to any user through the system or exported to PDF or CSV.
Asset Management Software
From inventory management to monitoring fixed assets, businesses have to keep a close track of their property and its condition. By law, some assets require frequent safety certificates before use, such as PAT testing for large appliances or MOTs for company-owned vehicles.
Utilising Asset Management software in your organisation enables the quick and convenient automation of a traditionally time-consuming task.
Smartlog® is cloud-based software which is accessible from anywhere around the world. Meaning that with just a few clicks, hundreds of thousands of assets can be added, accessed and audited in a secure & central platform.
Why should you choose Smartlog®?
Safesmart have been providing compliance software & services for over 20 years, and using our experience and knowledge, we also provide health & safety advice and Smartlog® support for our clients whenever it is needed — at no additional cost.

Frequently Asked Questions (FAQs)
Asset Management software is used for the registering, tracking and overall management of your organisation's assets. From electronic equipment to company vehicles, it is very important for a business to keep a close eye on all of its assets as well as to make sure that they are all safe for general use.

For example: some electronic applicances require up-to-date certificates such as PAT testing, whilst vehicle fleets require the close tracking of MOT anniversaries and servicing. Asset Management software systems like Smartlog provide an automated alert system for all urgent tasks so that all assets remain safe to use and fully compliant with health & safety laws.

Asset Management is extremely versatile, and can be utilised as a dedicated asset register or it can also function as an inventory management software system.

With a stock check module inside, you can also create inventory checks for any group of assets and scan or mark assets off in a checklist using the barcode scanner & NFC function. Created stock checks can also be periodically assigned to specific users, and all completed checks are automatically logged in an asset's history.
Yes, users can bulk-upload their assets into Smartlog using a simple CSV format – plus a step-by-step guide is provided within the system. This enables an existing asset register containing thousands of records to be easily transferred from your current system quickly and efficiently.

Alternatively, our development team can also do this for you at a price.
No, only selected users can access your Asset Management facility.

User permissions or restrictions are all set by the main administrator, so that only selected users can view and edit asset data – or have access to the Asset Management software module at all.
To book a free demo of this Asset Management software or for further information about Smartlog®,
please fill out the form below