Keep your risk assessments up-to-date with a large library of detailed and customisable templates.
Fulfil all your training requirements with a suite of online health and safety training courses.
Ensure that all premises checks & tests are addressed promptly within a central and integrated module.
An incident & accident reporting facility for centrally logging records per HSE guidelines.
Centrally manage & audit your organisation's physical assets, from inventory to machinery.
Sort, manage and easily distribute your policies & documents within your entire organisation.
Log all safety related issues & works – everything from emergency repairs to scheduled evacuation drills.
Manage all your suppliers, contractors & signed agreements in a secure, permission-based module.
Health and Safety Software
There are hundreds of thousands of workplace safety failings across the United Kingdom every year, with many of them resulting in serious injuries and fatalities. In order to reduce dangers and make the workplace a safer environment, legislation concerning health and safety is very strict.
Breaching these laws carries the threat of a heavy fine, prosecution — or both.
Smartlog® is health and safety software to assist employers in effectively managing and enforcing all compliance requirements for their organisation.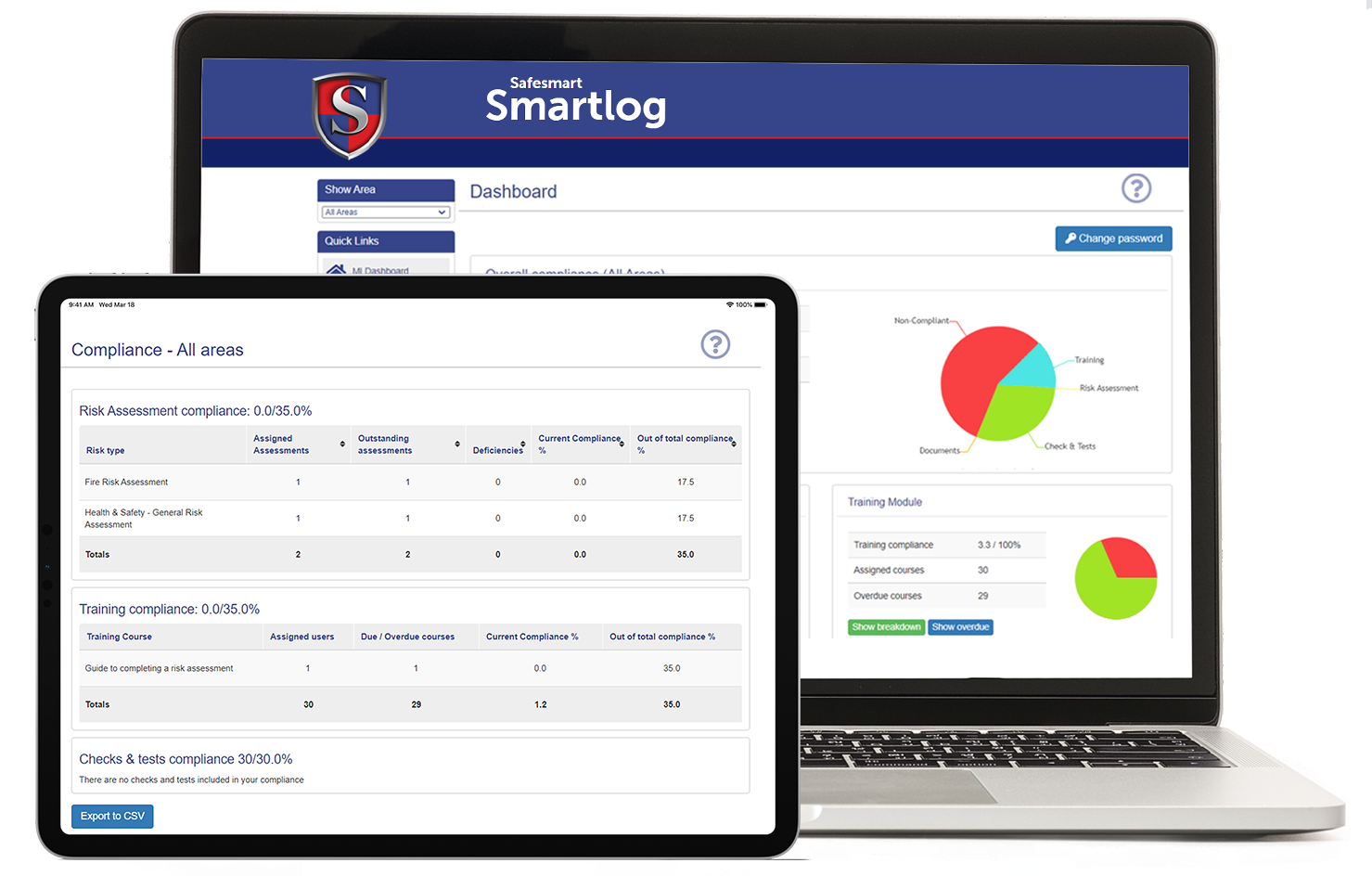 Immediately spot any deficiencies in your organisation, by providing an instant overview and detailed breakdown of your organisation's overall compliance.
Personalise your compliance
Adjust how your organisation's compliance score is calculated — you determine exactly how your compliance is weighted, to suit your business strategy as well as your industry.
View a detailed breakdown for each module, analyse and report on your organisation's key compliance metrics in real-time using a wide range of data points.
Offline access to modules such as Asset Management and Risk Assessment — automatically synchronise your data upon re-connection.
Upload photos straight from your phone to an accident report, or film and attach videos to your risk assessment whilst you carry it out.
NFC & Barcode Scanner Support
B
arcode scanning & NFC support within the Asset Management module for quickly locating tagged assets
or doing a quick stock check.

We work with clients to provide software solutions perfectly adapted for your organisation and industry.
From onboarding to system implementation — full technical support is available from our team.
Frequently Asked Questions (FAQs)
Health and safety software – also known as OHS (Occupational Health & Safety) software, is an online portal or platform designed to assist employers in their management of health and safety compliance in the workplace.

Health and safety software systems vary in the amount of management assistance that they provide, ranging from some being a simple logbook platform to others functioning as a real-time safety monitoring system, integrated with other business management software.

For health and safety personnel, OHS software replaces a number of manual processes and also provides a digital assistant, training platform and communications network. However, for smaller businesses that normally cannot afford to employ full-time health and safety personnel, OHS software allows any competent person to look after the organisation's health and safety.
Your health and safety software needs are largely dependent on your work environment, as well as the types of activities which frequently take place within your workplace. Good health and safety software should address your specific areas of concern, improve your workflow, and provide transparency.

In an office setting for example, training is important but your safety system should still prioritise risk assessment because there are still many safety hazards present, even though they might not appear obvious. In a more physical work environment, your health & safety software system will require additional functions for tracking and reporting hazards in real-time, because the risks are much higher and impactful.
From onboarding, a health and safety software system will save countless admin hours by immediately replacing traditionally written and filed processes. Whilst every paper-based work system involves individual stages of completion such as drafting, communicating and filing, a digital system already has these stages integrated.

More commonly, some organisations use multiple software systems for different processes – from standalone risk assessment software and accident reporting systems to HR software for managing personnel. This creates a complicated network of multiple systems with a large margin for blindspots, general miscommunication and, predictably, reduced safety.

Smartlog integrates different compliance processes within a single system, providing the accessibility and security that using multiple software platforms or a paper-based system simply cannot provide.
To book a free demo of Smartlog® or for further information,
please fill out the form below