Portable fire extinguishers are the most common type of fire fighting equipment to be found in industrial and commercial premises.
Safesmart provide fire + health and safety risk assessment, management and online training software called Smartlog. We also supply many organisations with fire equipment: fire extinguishers, fire alarms, fire doors and more…
The fire extinguisher calculator is a tool designed to work out how many extinguishers your workplace requires by area, to comply with legislation.
Use our free fire extinguisher calculator below to determine how many extinguishers you need.
We sell a range of fire safety equipment, please contact us to place your order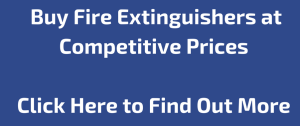 Disclaimer: This calculator is only to be used as guidance and does not provide the definitive answer.
The fire rating is found by multiplying the floor area in metres squared (m²) by 0.065. Therefore for a floor area of 200m² the fire rating is 200 x 0.065 = 13A.
A 9 litre water extinguisher has a fire rating of 13A therefore one 9 litre water extinguisher will be required for every 200m² of floor area.
For special risks such as fires involving live electrical equipment, a suitable extinguisher should be provided, carbon dioxide or dry powder, near to the risk or at least within a reasonable distance (less than 30m) usually placed next to the water extinguishers required.