Health and Safety Software
Smartlog™ is Safesmart's unique online fire & health and safety software.
This Advanced and Affordable software allows organisations to manage and regulate all their fire safety and health and safety requirements quickly and easily.
Smartlog™ software acts as your complete Fire and Health & Safety management tool.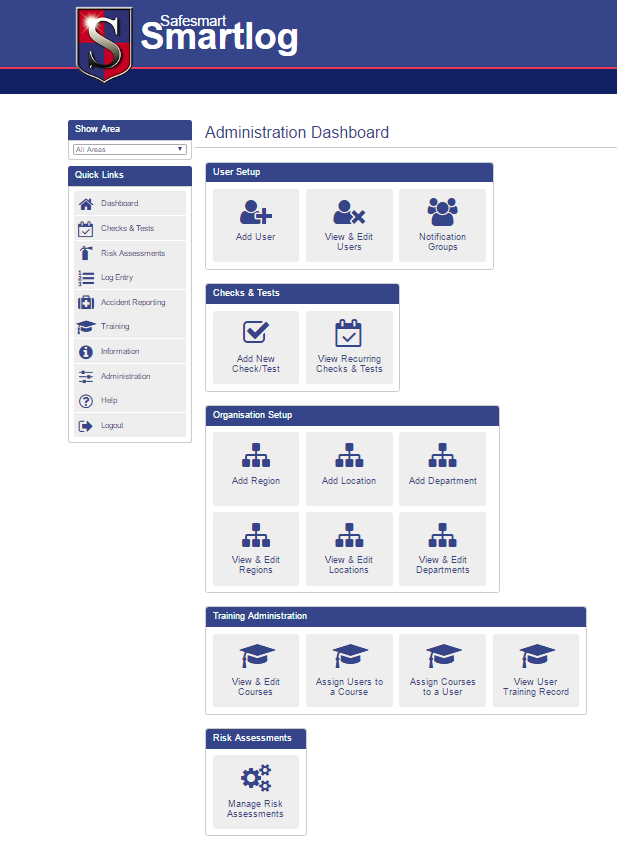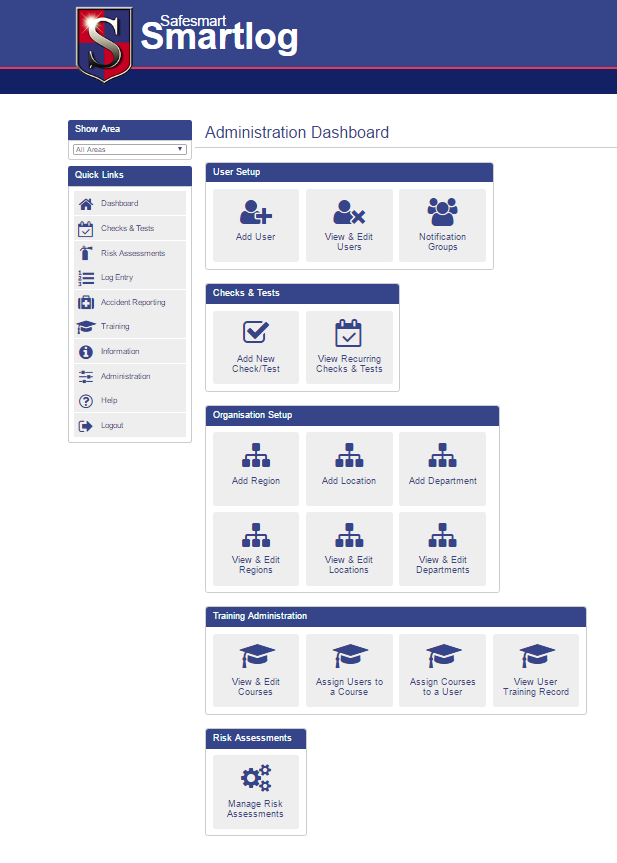 Key features of Smartlog include:
• Unlimited number of users.
• Self-monitoring Risk Assessments – Fire, COSHH, Asbestos, Legionellas, Work Place Safety Inspections, Agency Workers and DSE Assessments. You can also create your own custom interactive assessments so that all of the appropriate risk assessments are alerted, actioned and documented online and in real time.
• Audit Trail – Alert system means you will never miss an important issue again and when you are assessed you can prove who did what and when they did it. Every action is time stamped.
• Document Management – Share policy & procedure documents across all members of staff. A library of forms and guidance (Fire and Health & Safety). Upload any documents that you wish to share with your staff.
• Automated checks and tests – Automatic reminders with a management escalation facility. When a staff member is assigned a task, Smartlog will alert them of what needs to be done and when. If after 1 week they still haven't completed the task Smartlog will automatically email them and if necessary their manager a reminder (3 levels of escalation). This will ensure that important tasks are never missed.
• Log Book – Automated fire safety & health and safety log book facility including Accident and Incident Reporting (RIDDOR). Staff can report cleaning issues, repairs & maintenance and any incidents that need to be recorded and may require further action with emails sent to the assigned department or individual responsible for the incident.
• Training – 20 CPD certified online training courses for all staff members, including: Fire Awareness, Fire Warden, Display Screen Equipment, COSHH Awareness, GDPR Awareness and Health and Safety at Work.
• Free Support – Expert support for system plus health & safety and fire safety queries via phone and email at no additional charge.
Smartlog™ health and safety software is also fully adaptable and can be tailored to the individual requirements of your organisation. We currently have new health and safety training courses and assessments in development, so if you require a specific training course, please Contact Us.
Safesmart can also create bespoke health and safety assessments and online training courses.
Safesmart have also created an iOS app to provide offline Smartlog functionality so that Risk Assessments and Checks & Tests can be completed wherever you are, without the need for Internet, Wi-Fi, 3G or 4G.
Safesmart have a highly experienced customer services team who are on hand to assist our customers with all Smartlog™  software requirements, issues and questions relating to Fire Safety and Health and Safety and other regulatory compliance. Our Safety Consultants can also offer assessment, consultancy, engineering and maintenance.