Smartlog™ is Safesmart's cloud-based online fire and health & safety compliance management software for organisations across all industries and sectors.
---
Health and Safety Compliance Software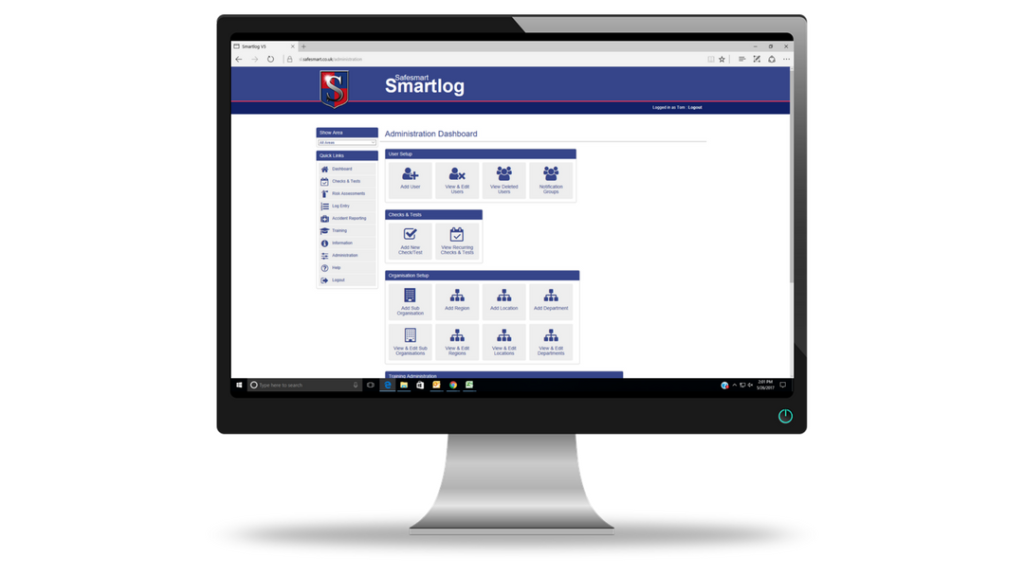 Due to the hundreds of thousands of work safety failings across the UK every year, legislation surrounding workplace health and safety is very strict; and breaches of the law carry the threat of a heavy fine, prosecution – or both.
Smartlog is fire and health & safety compliance management software for organisations across all industries and sectors, used in over 6,000 locations and for more than 159,000 active users around the UK .
Our comprehensive software aids everyone from health and safety compliance officers to business managers in effectively managing and enforcing all fire safety and health & safety requirements for their organisation.
---
---
---
Compliance Overview
Smartlog's unique interface allows you to immediately see any deficiencies in your organisation, by providing an instant overview of your organisation's overall compliance – and a breakdown in the 3 main areas:
With Smartlog's algorithm, health and safety compliance weight is uniquely determined per organisation; which means that compliance can be managed according to an organisation's exact needs.
As part of an industry development away from the oft problematic risk score/matrix structure, Smartlog's compliance overview is designed towards aiding and prompting immediate action towards resolving the problem rather than merely categorising risk visually.
Depending on the specific industry or organisation, employee health and safety training might carry more compliance weight than extinguisher checks for example (or vice versa). Evidently, workplace health and safety compliance does not always warrant a one-size-fit-all solution when determining priority.
---
Other Features
---
iOS App
Our Smartlog iOS app is available to also provide offline functionality, so that risk assessments and checks & tests can be completed without the need for Internet, Wi-Fi, 3G or 4G. Afterwards as soon as the user is connected to the internet, all updates will be synced up as normal.

---
Bespoke Solutions
We always have new training courses and risk assessment templates in development; but you can commission the bespoke creation – or the tailoring of a specific training course or risk assessment template.
Please contact us in order to discuss your requirements for workplace health and safety, or fill out the form below for a free no obligations quote.
---
Request information or a quote