Food Hygiene
E-Learning
20–30 min
Background
Course Overview
Why is Food Hygiene training important?
Employers who operate a food business, or one involving the processing of food, are responsible for training employees in food safety and hygiene – whether this is delivered as a practical course or an online food hygiene course. Additionally, employers must have a food safety management plan based on the HACCP (Hazard Analysis and Critical Control Point) principles.
This is to ensure that a proper food hygiene risk assessment is conducted, critical control points are identified and closely monitored in order to reduce or remove risks altogether, procedures are tested for effectiveness, and record-keeping is thorough.
What's included in this training course?
This Food Hygiene course is equivalent to a Level 2 Food Hygiene qualification and covers all the basic training requirements under The Food Hygiene (England) Regulations 2006. Topics covered include food management, food preparation and handling, personal hygiene, storage and stock control and the principles of HACCP.
More details about the course content can be found below.
This food hygiene course is:
equivalent to a Level 2 Food Hygiene qualification
contains 12 quiz questions
a certificate is issued upon successful completion of the course.
Safesmart delivers Food Hygiene Training for your organisation through Smartlog – our comprehensive health & safety compliance software.
Offences and Penalties – What constitutes as an offence in the eyes of the law, and the possible penalties arising from this.
Personal hygiene – Why and how hands must be washed regularly and effectively before, during and after handling food and food preparation areas.
Food preparation areas – Cleaning and tidying surfaces, floors and walls, and dealing with rubbish and waste.
Safe food handling practices – Appropriate and hygienic ways of handling food safely, including the 'colour coded system'.
Risks to food safety – Identifying appropriate actions in dealing with risks. Bacteria (low, medium and high risks of contamination), allergies (allergens information and the laws surrounding labelling), and pest control.
Correct food storage – Safe refrigeration, freezing, date & content labelling and food covering. Includes cooling down and heating up food.
This course has quiz questions and issues a certificate upon completion.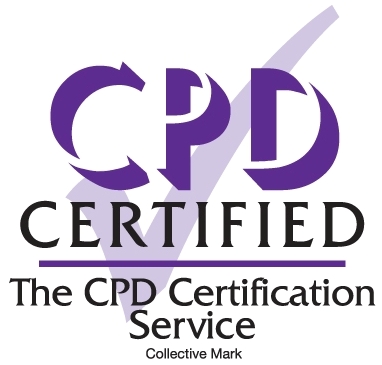 This course is certified by the CPD Certification Service
To request a quote for this course, fill out the form below: