Home / News / HSE 2019/20 health & safety at work statistics: The 5 key takeaways
HSE 2019/20 health & safety at work statistics: The 5 key takeaways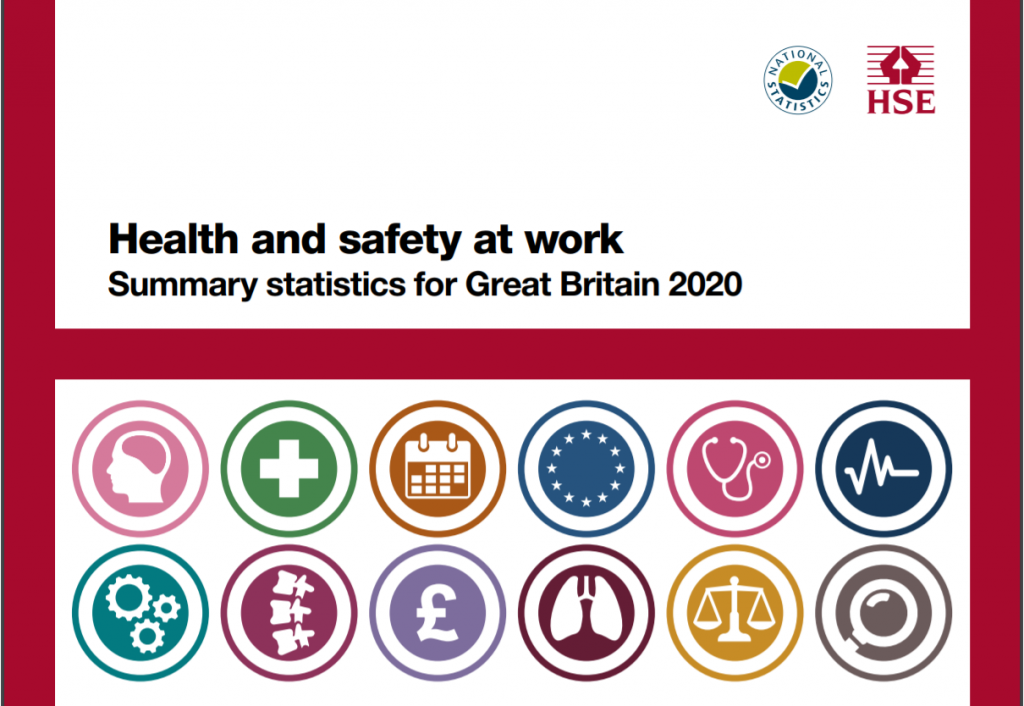 The HSE have released the annual health and safety figures for the year 2019/2020, and here are the 5 key takeaways.
Please note that this report falls largely outside the impact of the COVID-19 pandemic on public life (the first nationwide lockdown began 23rd March). Therefore findings should not be mainly attributed as to being the results of the pandemic.
1. Worker stress, depression or anxiety cases are up 37% from last year:
The cases for new and long-standing illnesses last year totalled 1.35 million, and this year's figure is up a significant 21% to 1.63 million.
However, the most significant news: stress, depression or anxiety cases have gone up by a worrying 37% and are now the primary illness type (51%) of all new and long-standing illness cases (they made up 45% of cases last year). Stress, depression or anxiety are also responsible for an estimated 17.9 million working days lost this year – a massive increase of 40% from last year.
Overall, working days lost due to illness have gone up by 9 million (a 39% increase) from last year to 32.5 million – the highest number since 2001/02.
However, the prevalence of work-related musculoskeletal disorder cases (480,000) fell by around 18,000 cases compared to 18/19, although new incidents were 14,000 more than last year.
2. Infectious disease cases had not increased by the end of March:
In the latest Labour Force Survey, work-related infectious disease (virus, bacteria) incidents remain unchanged from last year at around 24,000 cases, below the 2017 to 2019 3-year average of just over 30,000 cases. It must be noted again that the survey only relates to ill-health cases during the 12-month period before March this year.
However with the first COVID-19 case in the UK confirmed on 31 January, this is a notable finding.
3. Workplace fatalities reached a record low:
There were 111 worker (or employees/self-employed) fatalities in 19/20 – the lowest figure ever reported by RIDDOR since records began in 1974. The rate of fatal injuries also fell to a record low of 0.34 per 100,000 workers.
Whilst falls from height remain the biggest cause of death to workers (26%), the overall fall in fatalities continues an ongoing positive downward trend.
4. There are less serious injuries occurring at work, but more people are getting injured:
This year there were 4,937 less non-fatal injuries than last year for the lowest recorded figure from RIDDOR since 1985. Slips, trips or falls remain the biggest cause of RIDDOR reported injuries (29%).
However, this contrasts with Labour Force Survey statistics reporting 112,000 more non-fatal workplace injuries than last year, reaching the highest figure since 2010/11 with an estimated 693,000 cases this year.
Additionally, an estimated 6.3 million days were lost due to workplace injury – an increase of 1.6 million (34%) from last year.
This means that an estimated 38.8 million working days this year were lost due to work-related ill-health and non-fatal injuries; of which, at 10.6 million days more than 2018/19 is the largest single-year change on record.
5. HSE notices, prosecutions and fines fell significantly this year
2019/20 saw a 21% fall in notices issued by enforcing bodies, a 13% & 12% drop in prosecutions & convictions respectively by the HSE (and the Crown Office and Procurator Fiscal Service in Scotland), and a 34% drop in fines.
The construction industry remained the sector with the most convictions (42% of all convictions), but manufacturing organisations were responsible for 45% of all fines received (£16 million) whilst only responsible for 27% of convictions.
---
Bibliography
HSE (2020) 'Health and safety statistics'. Available at: http://www.hse.gov.uk/statistics/ (accessed: 24/11/2020)
HSE (2020) 'Workplace fatal injuries in Great Britain, 2020'. Available at: http://www.hse.gov.uk/statistics/pdf/fatalinjuries.pdf (accessed: 24/11/2020)
HSE (2020) 'Kinds of accident statistics in Great Britain, 2020'. Available at: http://www.hse.gov.uk/statistics/causinj/kinds-of-accident.pdf (accessed: 24/11/2020)
HSE (2020) 'Historical picture statistics in Great Britain, 2020 – trends in work-related ill health and workplace injury'. Available at: https://www.hse.gov.uk/statistics/history/historical-picture.pdf (accessed: 24/11/2020)
HSE (2020) 'Enforcement statistics in Great Britain, 2020'. Available at: http://www.hse.gov.uk/statistics/enforcement.pdf
HSE (2020) 'LFS – Labour Force Survey – Self-reported work-related ill health and workplace injuries: Index of LFS tables'. Available at: http://www.hse.gov.uk/statistics/lfs/index.htm#illness (accessed: 24/11/2020)
HSE (2020) Potential impact of COVID-19 on HSE's main statistical data sources in 2019/20 https://www.hse.gov.uk/statistics/adhoc-analysis/covid19-impact19-20.pdf (accessed 24/11/2020)
Latest News
Smartlog News
Latest News
Smartlog News