We provide online Legionella Training through our Smartlog online software. Our course has been created by subject experts — the information in our Legionella awareness training has been provided by a WMSoc (The Water Management Society) accredited member of the Legionella Control Association and BSRIA.
The Online Legionella Training Course Covers the Following:
• Legionella, Legionellosis & Legionnaires' Disease
• Types of Water Systems
• Legislation
• Legionella Risk Assessment
• Legionella Control
• Legionella Record Keeping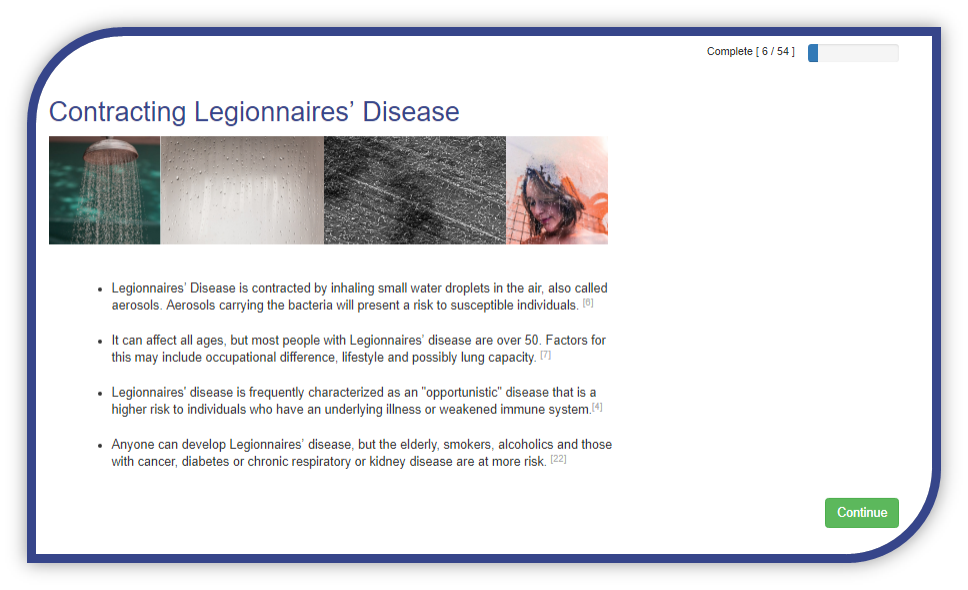 Features
• There are 12 quiz questions throughout our Legionella training course (with a 75% pass mark).
• Typical Course Duration: 20-30 mins.
• Progress in this online legionella training course is saved automatically, and you can resume from where you left at any time.
• Clear, concise and hyperlinked references, showing you exactly where the information came from.
• The course is updated regularly in line with any legislation changes.
• For an unlimited number of users, with unlimited access to the training course.
• This course is CPD-certified.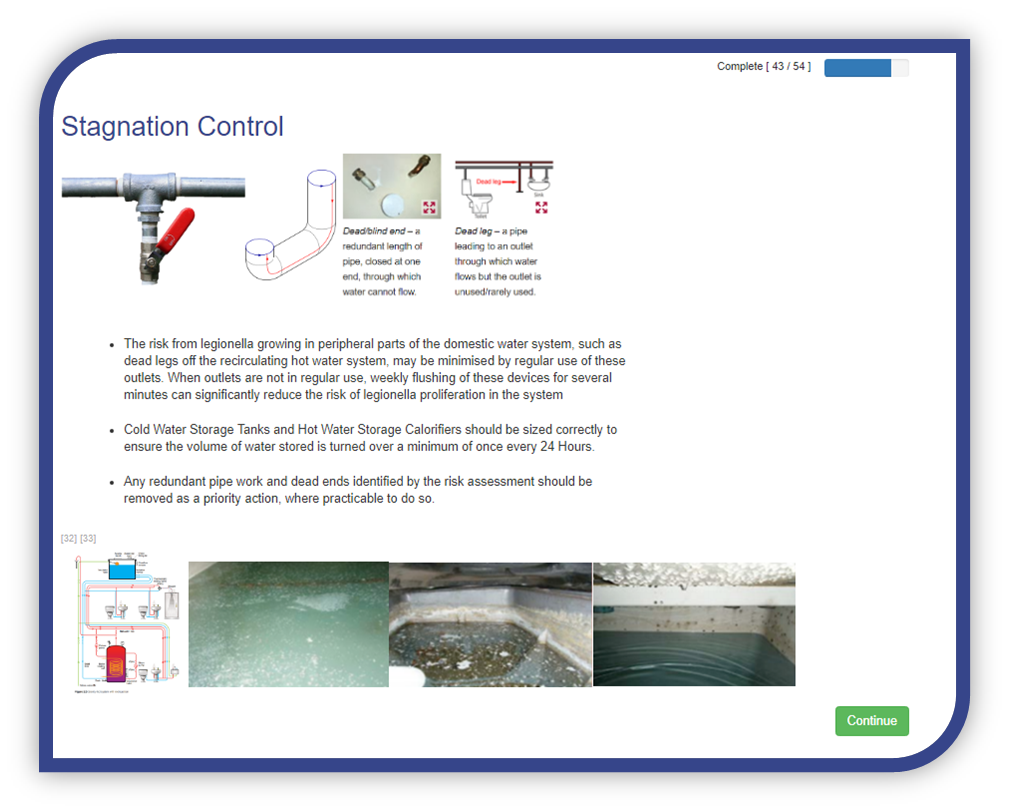 Legionella Legislation
This Legionella training course refers to and summarises information in the 'HSE's Approved Code of Practice L8 The control of legionella bacteria in water systems' as well as medical & scientific information.
Furthermore our Legionella course makes reference to and summarises information from the following legislation:
HSG274 Part 1: The control of legionella bacteria in evaporative cooling systems
HSG274 Part 2: The control of legionella bacteria in hot and cold water systems
HSG 274 Part 3: The control of legionella bacteria in other risk systems
Health & Safety at Work etc. Act 1974
Control of Substances Hazardous to Health Regulations 2002
Reporting of Injuries, Diseases and Dangerous Occurrences Regulations 2013
The Notification of Cooling Towers and Evaporative Condensers 1992
The Safety Representatives and Safety Committees Regulations 1977
Health & Safety (Consultation with Employees) Regulations 1996
What is Legionella?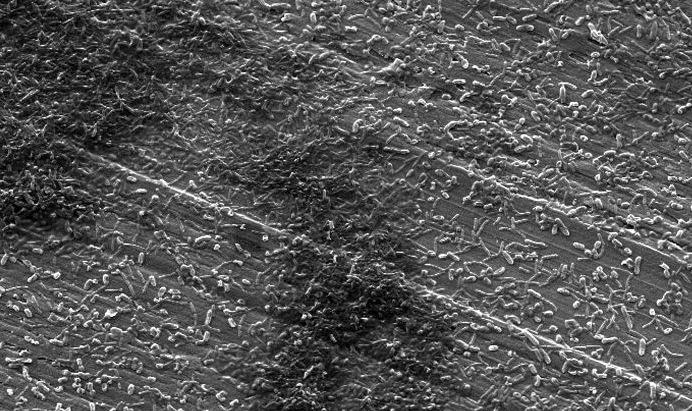 Legionella is a type of water-borne bacteria that can be found often in harmlessly low numbers in ponds, rivers and lakes. However, the bacteria can rapidly multiply to harmful quantities if they find their way into purpose-built systems where water is maintained at a temperature high enough to encourage growth, e.g. cooling towers, evaporative condensers, hot and cold water systems and spa pools used in all sorts of premises (work and domestic).
Legionnaires' disease is a potentially fatal type of pneumonia, contracted by inhaling airborne water droplets containing viable Legionella bacteria. Such droplets can be created, for example, by: hot and cold water outlets; atomisers; wet air conditioning plant; and whirlpool or hydrotherapy baths.
Legionella training is important to reduce the likelihood of people contracting legionnaires' disease. Legionnaires' Disease is contracted by inhaling small water droplets in the air, also called aerosols. Aerosols carrying the bacteria will present a risk to susceptible individuals. It can affect all ages, but most people with Legionnaires' disease are over 50. Factors for this may include occupational difference, lifestyle and possibly lung capacity. Legionnaires' disease is frequently characterized as an "opportunistic" disease that is a higher risk to individuals who have an underlying illness or weakened immune system. Anyone can develop Legionnaires' disease, but the elderly, smokers, alcoholics and those with cancer, diabetes or chronic respiratory or kidney disease are at more risk.
Legionella training is a legal requirement for those who have a level of responsibility for the prevention & control of legionella. The HSE write in their L8 guidance about Legionella that 'Inadequate management, lack of training and poor communication are all contributory factors in outbreaks of legionnaires' disease. It is therefore important that the people involved in assessing risk and applying precautions are competent, trained and aware of their responsibilities.' More information in answer to this question can be found: here
Contact Us to Book a Demo and Find Out More