Home / News / Choosing Health and Safety Software
Choosing Health and Safety Software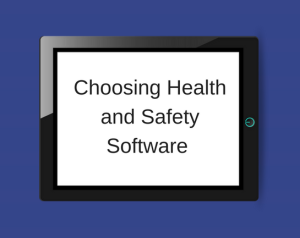 Health and Safety Software helps organisations manage compliance with functionality such as risk assessments, maintenance checks, incident reporting and training. Good H&S software should make legal compliance efficient and ensure that there is an audit trail. It should also be good value for money.
When choosing health and safety software there are various different providers and decision making can be difficult. This Blog Post outlines key things to think about when choosing Health and Safety Software.
Health and Safety Software can be tailored to the needs of your organisation from schools and universities to healthcare and hospitality. The level of tailoring and customisation depends on the provider. Equally for services such as consultancy, assessment, safety equipment supply and servicing the provider's background and experience should be carefully considered to ensure it matches your sector requirements.
Key points to consider when choosing Health and Safety Software:
Remember the Acronym: F A S T   U S P    or   A P T    F U S S
Functionality, Accessibility, Scalability, Technology              Users, Support, Price
Functionality:
– Legal compliance
– Audit trail
– Online or offline
– Mobile and device optimisation
– Risk assessments, custom and templates
– Build your own functionality
– Photo evidence
– Document management, policies etc.
– Site maintenance checks and tests, custom and templates
– Reminder notification, escalation functionality (email/text/phone)
– H&S Training Courses, topics covered, bespoke development.
– Accident and Incident Reporting (RIDDOR)
– Software and Training Course Accreditation
– Industry and specific requirements
– Organisational structure
– Association recommendation
Accessibility:
– Ease of use
– Loading speed
– Language
– Help prompts/guides
– Login functionality
– Security
Scalability:
– Multiple sites
– Number of users
– International sites
– Cloud storage space
– Management structure
Technology:
– Software speed
– Software reliability
– Software Integration
– Apps, mobile, tablet functionality
– Server security
– Software encryption
– ISO Accreditation
– Virus protection
– Back up server
– Device (e.g. tablet) provision
– Continual upgrades
Users:
– Branding customisation
– Cost for number of users
– Adding users
– User Language
– Check and Test Accountability
– User admin rights
Support :
– Software usage training
– Help and Instructional Information
– Customer Account Manager
– Good customer service
– Happy customers
– Customer retention rates
– Telephone, email, onsite support
– Organisational restructuring
– Adding sites and user management
– Building & digitising risk assessments plus Maintenance Checks
– Building bespoke H&S Training Courses
Price:
– Per module cost or All in One Package
– Cost per site
– Annual/Monthly Subscription
– Contract period
– Discounts available
– Servicing and software packages
– Software upgrading included
The above summary highlights the key things that should be considered when choosing health and safety software.
Additionally software demonstration and free trial periods should be taken before making a decision to see which software is right for you.
Ultimately, price is a key factor and if suppliers also offer services such as on-site assessment, audits, training, consultancy, fire equipment supply etc. Packages can be negotiated and significant cost saving can be achieved.
We hope that you choose the solution that it right for you.
Safesmart's Smartlog Software caters for many different organisations requirements and the fact that we are the only Preferred Supplier for the Association of School and College Leaders (ASCL) and a NASBM approved partner highlights the suitability of our software for varying environments that feature in the education sector.
As well as the education sector we supply NHS establishments and work with various care homes and hospitality venues. As well as online software, Safesmart also offers fire equipment: inspection, maintenance and installation for things like: extinguishers, alarms, fire doors etc.
Contact us for more information:
info@safesmart.co.uk
01908 320 152
Latest News
Smartlog News
Latest News
Smartlog News