Home / News / HSE 2020/21 health & safety at work statistics: The 5 key takeaways
HSE 2020/21 health & safety at work statistics: The 5 key takeaways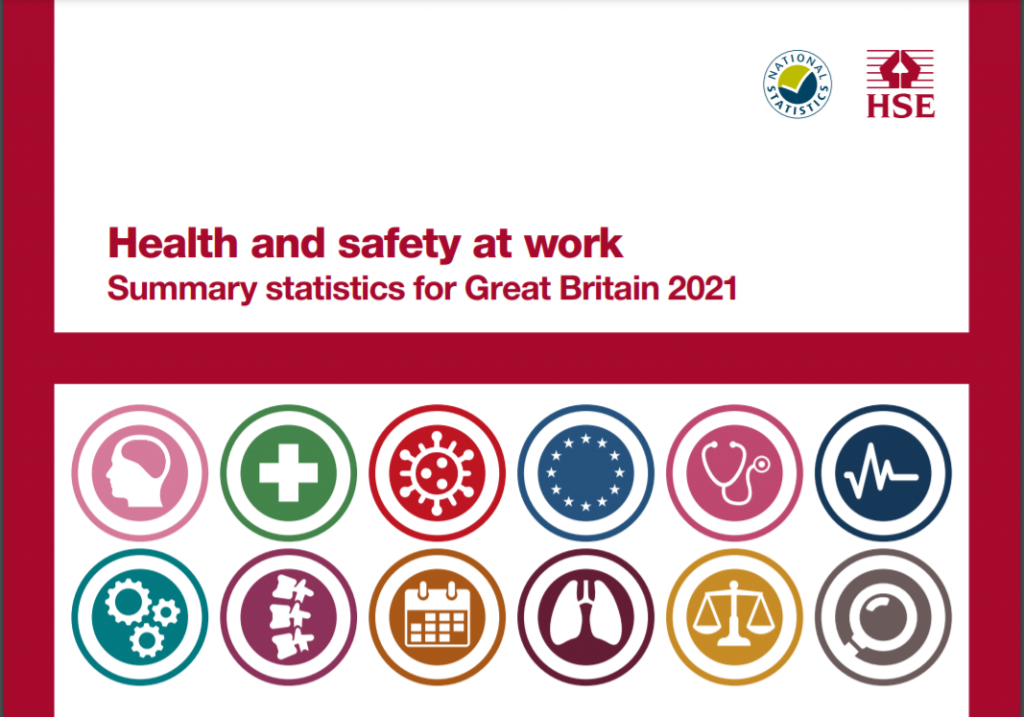 The HSE have released the annual health and safety figures for the year 2020/2021, and here are the 5 key takeaways.
1. Because of COVID-19, no statistics on working days lost and economic costs are included in this year's statistics.
Because of the discontinuity in collecting statistics presented by COVID-19 measures such as furlough, the HSE have decided to omit statistics on working days lost and their associated economic costs.
Instead, they have released a 29-page technical report on how the pandemic has affected the collection and interpretation of the latest health & safety statistics, which can be found on: https://www.hse.gov.uk/statistics/coronavirus/covid-19.pdf
However, data on how many workers were directly affected by the coronavirus illness is included (see number 2).
2. New and long-standing infectious disease (virus, bacteria) illnesses have more than tripled
After going up by 21% to 1.63 million in 19/20, new and long-standing illnesses have increased slightly to 1.66 million this year.
Significantly, infectious disease (virus, bacteria) illnesses more than tripled, from 30,000 cases in 19/20 to 93,000 cases this year. According to the HSE, the cases are all for COVID-19 which respondents believe may have been from exposure to coronavirus at work.
However, only 32,110 COVID-19 cases were reported to Enforcing Authorities in 2020/21 which employers believed may be caused by exposure to coronavirus at work.
Positively, whilst stress, depression or anxiety cases went up a worrying 37% in 19/20, this year they have decreased by around 2,000 cases; and in other positive news, work-related musculoskeletal disorder cases fell for a third consecutive year, decreasing by 23,000 cases to 470,000.
3. Workplace fatalities have returned above the 5-year average
After a record low of workplace fatalities last year (113), deaths have climbed to 142 – above the 16/17 to 20/21 5-year average of 136.
The most common cause of fatal injuries continues to be falls from height (35), followed by being struck by a moving vehicle (25) and being struck by a moving object (17), which altogether account for more than half of the fatalities.
4. Serious injuries have had their largest yearly decrease in 40 years:
Self-reported non-fatal injuries have reduced by an estimated 250,000 cases (36%), with slips, trips and falls accounting for 33% of these cases and manual handling accounting for 18%.
There was also a notable reduction in serious workplace injuries this year; with 51,211 employee non-fatal injuries reported by employers to RIDDOR – which is over 15,000 cases less than 2019/20.
This represents the largest yearly drop in RIDDOR-reported injuries since 1980.
5. HSE prosecutions are down more than 40%
After a significant drop in HSE (and the Crown Office and Procurator Fiscal Service in Scotland) notices, prosecutions and fines in 2019/20, this year saw prosecutions fall by 36% and total fines fall by 23%.
The construction industry, which suffered the most prosecutions last year (42%), saw prosecutions more than halve this year; although it still remains the sector with the highest prosecutions (37%).
On the other hand, the manufacturing industry had the second most prosecutions (32%), but remains the sector with the highest fine total (£8 million) – half of its total fines in 19/20.
---
Bibliography
HSE (2021) 'Health and safety statistics'. Available at: http://www.hse.gov.uk/statistics/ (accessed: 17/12/2021)
HSE (2021) 'Workplace fatal injuries in Great Britain, 2021'. Available at: http://www.hse.gov.uk/statistics/pdf/fatalinjuries.pdf (accessed: 20/12/2021)
HSE (2021) 'Kinds of accident statistics in Great Britain, 2021'. Available at: http://www.hse.gov.uk/statistics/causinj/kinds-of-accident.pdf (accessed: 20/12/2021)
HSE (2021) 'Historical picture statistics in Great Britain, 2021 – trends in work-related ill health and workplace injury'. Available at: https://www.hse.gov.uk/statistics/history/historical-picture.pdf (accessed: 20/12/2021)
HSE (2021) 'Enforcement statistics in Great Britain, 2021'. Available at: http://www.hse.gov.uk/statistics/enforcement.pdf (accessed: 20/12/2021)
HSE (2021) 'LFS – Labour Force Survey – Self-reported work-related ill health and workplace injuries: Index of LFS tables'. Available at: http://www.hse.gov.uk/statistics/lfs/index.htm#illness (accessed: 17/12/2021)
HSE (2021) Technical Report: The Impact of the coronavirus pandemic on the interpretation of Health and Safety Statistics 2020/21 https://www.hse.gov.uk/statistics/adhoc-analysis/covid19-impact19-20.pdf (accessed 17/12/2021)
Latest News
Smartlog News
Latest News
Smartlog News